Coptic SCRIPTORIUM is a platform for interdisciplinary and computational research in texts in the Coptic language, particularly the Sahidic dialect.  As an open-source, open-access initiative, our technologies and corpus facilitate a collaborative environment for digital research for all scholars working in Coptic. We provide:
tools to process Coptic texts
a searchable, richly-annotated corpus of texts using the

 

ANNIS

 

search and visualization architecture
visualizations of Coptic texts
a collaborative platform for scholars to use and contribute to the project
research results generated from the tools and corpus
The SCRIPTORIUM is a collaborative, digital project created by Caroline T. Schroeder (University of the Pacific) and Amir Zeldes (Georgetown University). Our team is constantly growing.
We hope Coptic SCRIPTORIUM will serve as a model for future digital humanities projects utilizing historical corpora or corpora in languages outside of the Indo-European and Semitic language families. Read our Frequently Asked Questions for more information on the project, methodologies, and terminology.
MEET UP IN MARCH!
Join us at our Digital Coptic workshop and symposium at Georgetown University, March 12-13, 2015. The event is free and open to the public. Program and registration information is here.
MEET OUR MASCOT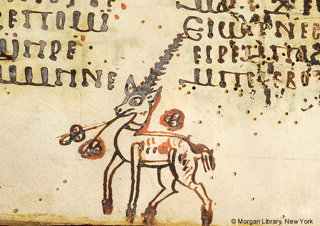 We've updated our brand with a new logotype and interpreted the unicorn from the M.0581 Manuscript at the Pierpont Morgan Library in New York as our mascot. What do you think? Weigh in on Twitter. [Image is a detail of MS M.0581, fol. 010r, for non-commercial use only.] The unicorn was originally painted in the 9th or 10th century by the copyist and illustrator Deacon Dioskoros in the Fayyum region of Egypt. Our website, logo, and mascot were designed by Alison King, Assoc. Prof. of Graphic Design at the Art Institute of Phoenix and Founding Editor and Designer of Modern Phoenix.
NEW CORPUS ADDED
Shenoute's Not Because a Fox Barks
(MONB.XH witness) was added in December 2014.
VIDEO
We created a new video
introducing the project texts and data model, and how to use ANNIS in November 2014.
WORKSHOP ARCHIVE
We hosted a workshop on digital research and scholarship in Coptic at Humboldt University on May 14, 2013.
View the program and presentations here.